Hydroflex Pipe Pvt Ltd.,
started its trading business in the year 1974 with numerous kinds of hoses under the brand name of B.N Traders. It continued to progress until the year 1982 when it marked the beginning of fabrication unit with Hydroflex Hose Industries. It involved fabrication of end connection of different types of hoses and
stainless steel hoses assemblies
. Hydroflex Hose Industries is engaged in supplying rubber, stainless steel hose assemblies, etc to various reputed industries in the business.
In the year 2000, a well built and organized manufacturing unit of
stainless steel annular corrugated metallic flexible hose
,
Flexible Hose Pipes, Stainless Steel Hose Pipe, braiding & hose assemblies
was established. All the stainless steel annular corrugated metallic flexible hoses & hose assemblies are fabricated as per authentic AISI 321, 316, 316L & 304 grades and confirm to international standards of quality. Hydroflex Pipe Pvt. Ltd. Is an ISO 9001:2008 certified organization and all the hoses manufactured by us confirm to BS 6501, PART-1:2004/ISO 10380 : 2003. Besides, our hose assemblies are supplied with "CE" marking as per PED 2014/68/EU.

return false;">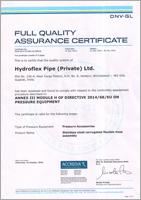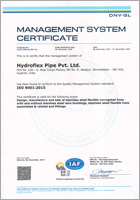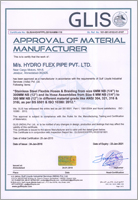 Read More